New directions in our agencies!
Leroy Tremblot & LaFourmi
A NEW DIRECTION FOR LEROY TREMBLOT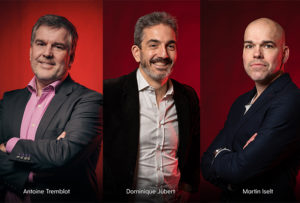 Departure of Antoine Tremblot, Founder and CEO
A new chapter is beginning for Leroy Tremblot, which was founded by Antoine in 1984. After 36 years of sporting adventures, Antoine has handed over the keys of the agency to Dominique Jubert (CEO) and Martin Iselt (Creative Director), following an internal handover that began in 2017, the year of Leroy Tremblot's acquisition by LaFourmi.
Antoine has made an indelible mark on the sports marketing market! It was a huge pleasure and a real honor to have him as a guide! The entire Leroy Tremblot team, along with the whole LaFourmi family, is committed to continuing his work and taking a highly ambitious approach in the years to come, which will place France at the heart of the global sporting landscape. 👊
We love you, Antoine!
Dominique Jubert appointed CEO Driven by creatives and sports experts, Leroy Tremblot is the only player entirely devoted to branding and design concerns on the sport business market. 44-year-old Dominique Jubert becomes its CEO after spending twelve years alongside Antoine in the post of Consulting and Development Director. He will be tasked with supporting the agency's clients in defining their brand strategy, optimizing their visibility in a context of extensive media coverage, managing brand cohabitation, and developing their primary revenue streams. This reflects the whole spirit of the agency's positioning: Sports Brand Coaching.
Martin Iselt appointed Creative Director
43-year-old Martin Iselt joins Leroy Tremblot as Creative Director, following in the footsteps of the agency's founder. Creative Director at CBA from 2016 to 2020, he boasts ten years' international experience in creative agencies and firms, including Landor (WPP Group) in Paris, And Partners, DBOX and Doyle Partners in New York; on BtoB and BtoC projects for Citroën, Johnson & Johnson, Unilever, Total, Visa and Nestlé, as well as architectural branding projects alongside Richard Meier or Shigeru Ban.
THIS NEW DIRECTION AT LEROY TREMBLOT IS SUPPORTED BY A REINFORCED CREATIVE DIRECTION FOR LAFOURMI, OUR PARENT COMPANY AND THE FIRST CREATIVE AGENCY ENTIRELY SPECIALIZING IN THE WORLD OF SPORT.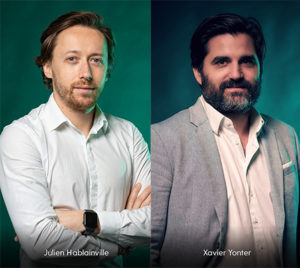 Xavier Yonter named Co-Creative Director alongside Julien Hablainville
40-year-old Xavier Yonter takes up the post of Co-Creative Director alongside Julien Hablainville, Creative Director, the agency's long-standing associate. A copywriter at LaFourmi since 2009, Xavier has worked on campaigns for PUMA, the French Football and Rugby Federations, Paris Saint-Germain, Uber Eats, the Union Cycliste Internationale, Crédit Agricole and Accor, to name just a few. Holding a Media Management postgraduate diploma and a Masters in Marketing & Corporate Communication, he cut his teeth at BETC, Euro RSCG and TBWA/Interactive.
38-year-old Julien Hablainville is the agency's Co-Creative Director and long-standing associate. A graduate of MJM Graphic Design school with an advertising art diploma, he joined LaFourmi in 2010 and from 2014 onwards — the year of the agency's Sport specialization — was a key architect of LaFourmi's winning drive, supervising all the creative productions in its client portfolio.
JULIEN, XAVIER AND MARTIN LEAD A HUB OF 25 CREATIVE TALENTS. THEY OFFER A BROAD CREATIVE PRISM, BECOMING INVOLVED AT A VERY EARLY STAGE ALL ACROSS THE VALUE CHAIN: BRANDING, DESIGN, ADVERTISING, CONTENT, DIGITAL ACTIVATION, SOCIAL MEDIA AND TICKETING.